Nutrition & Supplement Facts
We utilize the USDA National Nutrient Database for Standard Reference or your laboratory nutritional analysis to develop a complete nutrition panel. knowledge bank helps you select the reference serving size to comply with the most recent regulatory changes. Our reports are available on a per serving, per container and/or per 100gram (100mL) basis.
​
FDA issued new regulatory formats and calculations to USA nutrition panels (both foods and supplements). USDA permits (but does not require) companies to follow the FDA's updated nutrition information displays.
Domestic and International companies must plan ahead with time, money and resources so they are compliant by January 1, 2020. On that date, all newly packaged foods and supplements must comply with the new requirements (unless you are a small food business then you get an extra year)!
​
knowledge bank is on your side to stay ahead of issues and avoid surprises.
Nutrition information displays on conventional foods and beverages were once called the NFP and traditionally are black ink on a white background. Now, FDA refers to this "white box" as the Nutrition Facts label (NFL). We provide graphic-ready formats with the compliant displays based on your package die-lines and on-pack claims.
For Supplement Facts, we understand the nuances right down to the details like proper naming conventions for botanicals (genus /species /plant part.) We've worked in the industry since pre-DSHEA so you have an experienced partner with knowledge bank.
Cannot decide if you need a Nutrition or Supplement Facts display?
Need more help? knowledge bank can help you with your business decision to comply as a conventional food or beverage vs. a dietary supplement. Additionally, we can assist with ingredient listing and allergen declaration, in the approved regulatory format so it complements the nutrition panels. Utilizing our full label review reports, we may also review your entire label and advise what details are missing on your nutrition panels. We review the labels and check the proper serving sizes against the reference amounts set by regulation. This may assist you in identifying other potential claims that you did not see previously.
Frequently asked questions
What services do you provide for Nutrition Facts or Supplement Facts (NFP or SFP)?
---
knowledge bank offers several services around the nutrient panels. We work with you to determine the level of support you need from creating the NFP or SFP (in either 1993 or 2016 formats), reviewing the format, to auditing the calculations and/or supplier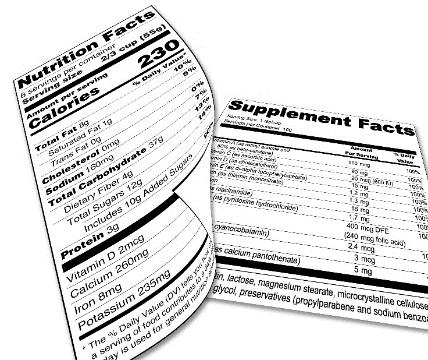 specifications.
When we create the NFP or SFP, we start with either your recipe, formula, or 100-gram nutrition information (from a database manager or laboratory analysis). This data is entered into a recipe management system to create a "theoretical" nutrition panel that is compliant for FDA and USDA regulations. The initial NFP or SFP format is evaluated and adjusted to ensure your panel supports your label claims and total available label space. Using our industry knowledge, we will also note when any "values" seem unusual. We do not analyze or "test" your products so please do not ship us samples; however, we can recommend laboratories who provide this testing service. If you choose to acquire laboratory data, we can help you create the graphic-ready image for your packaging. Ask us how to select a smaller format if you have tight label space.
---
When do I need to comply with the new NFP regulations announced in 2016?
---
The FDA's Final Rule for the "Revision to the Nutrition and Supplement Facts Labeling" was issued in 2016 and originally required a July 26, 2018 deadline. However, there is a proposed extension of January 1, 2020 for $10M+ sized companies (or January 1, 2021 for companies under $10M) in total food sales products.
---
What do I name an ingredient, or can I leave off additives I don't like?
---
knowledge bank assists product developers, marketers, and entrepreneurs with naming ingredients and if an additive or substance may be omitted from the final label declaration (under very specific circumstances). Should you copy your neighbor or competitor, there is no guarantee that they've done things right. Our confidential, knowledge bank ingredient review evaluates all ingredient and sub-ingredient specifications respective to your
formulation to see which regulations apply. Additionally, we've made recommendations that helped our clients reduce the length of the ingredient declarations or protect their proprietary blends and unique flavor profiles.
Ingredient reviews are priced as an hourly service separate from the creation of the Nutrition Facts panel (label) on conventional foods and beverages. The creation of the Supplement Facts panel (label) is tied to the "other ingredient" declaration and an ingredient review is included in the fixed fee for the SFP creation. Ingredient review services require full formulations and ingredient specifications. A recommendation for labeling the 8 major USA allergens is provided with our ingredient review services.
---
Can Knowledge Bank help identify the USA allergen cautions?
---
Yes. Failure to properly label for allergens is a sure way to end up with a Class 1 product recall. knowledge bank advises on the different regulatory options available for disclosing the 8 major allergens. The ingredient supply chain is global and very complicated, resulting in specifications sheets that are incomplete, inaccurate, old or just plain wrong. We can flag risks for allergen cross-contamination within the supply-chain so your technical team can do a more thorough job in auditing and testing on-site. Our recommendations for naming the 8 major allergens is part of our ingredient review services.
---
Do you handle dual-column NFP or multi-pack containers?
---
Yes, knowledge bank, are experts on USA Food and Dietary Supplement labeling. Call us to discuss your label challenges, we've probably already seen it before.
---
We have many labels and products; do you offer discounts?
---
knowledge bank will work with you to provide the appropriate level of services. knowledge bank has many strategies for helping companies meet their project needs and budgets. For large projects, we can staff up. Where products are similar, we often suggest creating a single "hero" or master template from which your team can learn and manage products internally with lesser consultation oversight. When you purchase services from knowledge bank, you are effectively purchasing expertise by the slice (timesharing) without any long-term commitment.
---
---